by Jackie Summers:
Would you ever wash your hair with a green-coloured shampoo or condition it with a green-coloured hair mask? Your first response would probably be, "Of course not! Why would I put green colour on my hair?" But in some cases, adding a bit of green dye to your hair is exactly what you should do. Here's why.
According to Matrix Celebrity Stylist George Papanikolas, people with dark hair—dark brown to black—have red undertones in their dark hair colour. When strands are exposed to elements such as sunlight, hair lightener, perms or chemical straighteners, chlorine or hard water, those undertones emerge, causing rich, dark tones to appear tinged with red or a rusty shade. Treating dark hair that is showing unwanted red tones with a shampoo or mask that deposits a controlled amount of green dye gets rid of the red, and restores the hair to its original, rich, dark brunette hair colour shade.
Neutralisation 101
"To understand how this works," explains George, "simply look at a colour wheel. "The colour wheel is a chart representing the relationships between colours. It's a circle that displays the colours of the spectrum. It shows primary colours – red, yellow and blue; secondary colours–orange, green, and violet; and tertiary colours – yellow green, blue green, blue violet, red violet, red orange, and yellow orange. The colours adjacent to each other on the wheel are complimentary. The colours directly opposite will neutralize each other. If you look directly across from red on the colour wheel, you see green. Therefore, we know green neutralizes or cancels out red. That's why green dye is the solution for unwanted red tones in hair colour."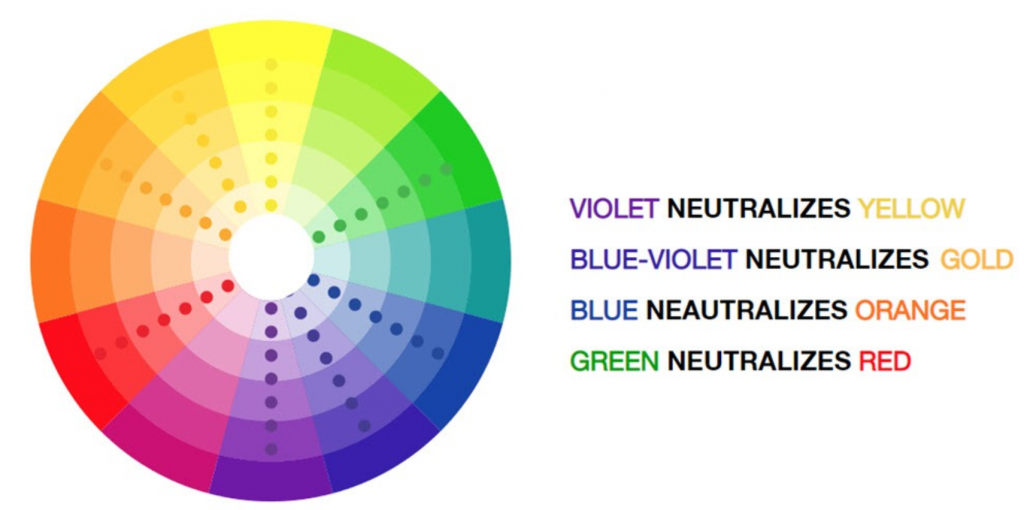 Purple, Blue & Green Shampoo
Blondes and "brownettes" are already familiar with the concept of neutralisation. Yellow sits opposite purple on the colour wheel, so when someone with blonde hair colour, platinum hair colour or silver hair colour encounters unwanted yellow tones in the hair, the solution is a purple shampoo that deposits violet dye to neutralise the yellow. Along those same lines, someone with light or medium brown hair colour, who is noticing unwanted brassy or orange tones, would use a blue shampoo because blue neutralises orange.
"I like Matrix Total Results because they have hair colour neutralising solutions for every situation," says George. "I tell my blonde clients to use Total Results So Silver to keep their blonde, silver and platinum hair colour free and clear of yellow tones. My clients with cool brown hair colour, balayage and "bronde" hair colour have embraced Total Results Brass Off to ban unwanted brassy tones on their lightened hair. And now I'm excited about the new Total Results Dark Envy – a system that neutralises the undesirable red tones that can emerge when dark brown or black hair is lightened or exposed to sun or hard water."

According to George, The Dark Envy system keeps dark hair rich, shiny and on-tone thanks to the highest concentration of red-neutralising dyes. He says it's the first range from Matrix that neutralises red undertones to enrich dark hair colour levels 1 to 4. The Dark Envy collection includes: Dark Envy Green Shampoo, a rich, emerald-green formula that neutralises red undertones in hair and adds deep cool tones to dark hair; Dark Envy Hydrating Conditioner, a companion to Dark Envy Shampoo that hydrates and softens hair; and Dark Envy Red Neutralization Toning Hair Mask, a highly pigmented, in-salon treatment that can also be used at home.
When applying a green shampoo or hair mask like Dark Envy, suggests George, proceed with caution. "Wear gloves to prevent stains on your hands," he suggests. "Avoid getting it on your scalp. Apply the mask evenly, section-by-section. You can use it up to once or twice a week. Don't panic when you see the dark green colour come out of the bottle or jar—that's simply due to the colour-balancing combination of direct dyes in the formulas."
And one more tip. "Don't use Dark Envy if you have blonde hair, light brown hair or light highlights," George warns, "because they will turn green. Green shampoos and conditioners are only for people with dark hair colour!"