Our History
Frangipani Cutting Crew is family-owned and operated right here in Caloundra, Queensland. Since our company opened its doors in 2002, we've treated every customer like they are a part of our family.
Other companies may offer similar services, but our services have that personal touch.  We are a cut above the rest.
The team at Frangipani provide creative and innovative cutting and colouring to consistently exceed the expectations of our clients. We believe in constant training and the highest quality of service, in a fun and happy environment.
Specialist
Hair Style Cuts and Colour
Our staff promise to provide a complete styling experience for you.
Our highly trained and passionate crew are here to ensure your whole salon experience is truly memorable. Using modern techniques in conjunction with quality professional products we will work with you to create the look your heart desires. We also only use eco-friendly Australian products, not tested on animals, plant based ingredients and environmentally responsible.
Meet Our
Professional Team
We have a team of experienced professional hair stylists who provide exceptional hair cuts and are experts in hair colour. All our hair stylists provide the personal touch to each one of our clients, ensuring you leave the salon, looking fabulous and feeling great!  We are a cut above the rest!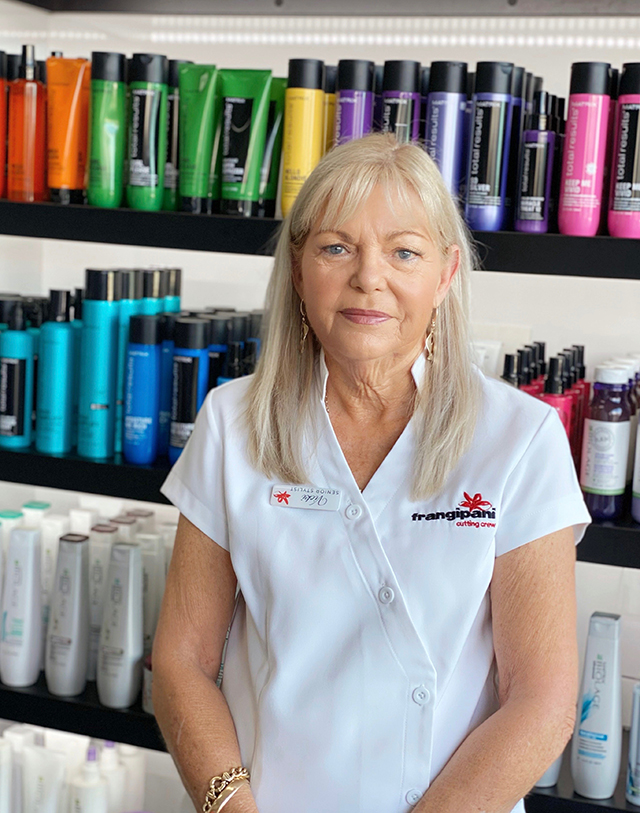 VICKI
Managing Director
Hi I'm Vicki! I have been with Frangipani Cutting Crew since its opening in 2002 and I just love the creative side of my profession and how it allows me the ability to make people feel better about themselves every day. I also love working in a passionate team who have the same philosophy and outlook in their chosen field. Another wonderful aspect is being able to coach younger stylists on their journey of discovery about themselves and this great career. My days at the salon are Wednesday to Saturday. I specialise in colour and style cuts for all ages. I love all the products we use because we use only the best.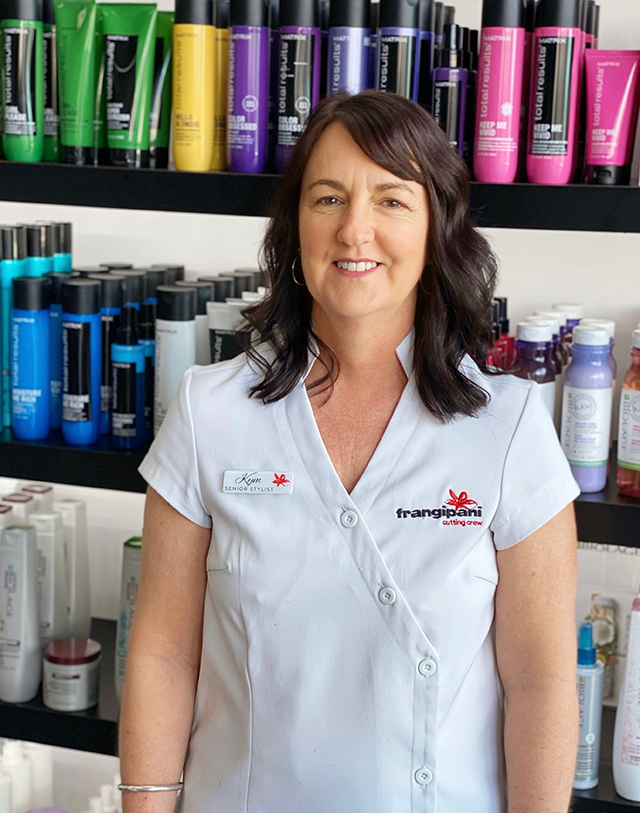 KYM
Senior Hair Stylist
Hi I'm Kym! I started hairdressing in 1988 and still love my profession to this day. I love making people feel happy and making someone's day just by the power of a new hair style. I have previously owned my own salon but made a move from Rockhampton and joined Frangipani Cutting Crew almost five years ago. My days on the floor are Tuesday to Saturday. I specialise in razor cutting and keratin smoothing systems. My favourite product is BHave Curl Defining Creme because it leaves the hair defined soft and tack free. In my spare time I enjoy spending time with my beautiful daughter and gardening.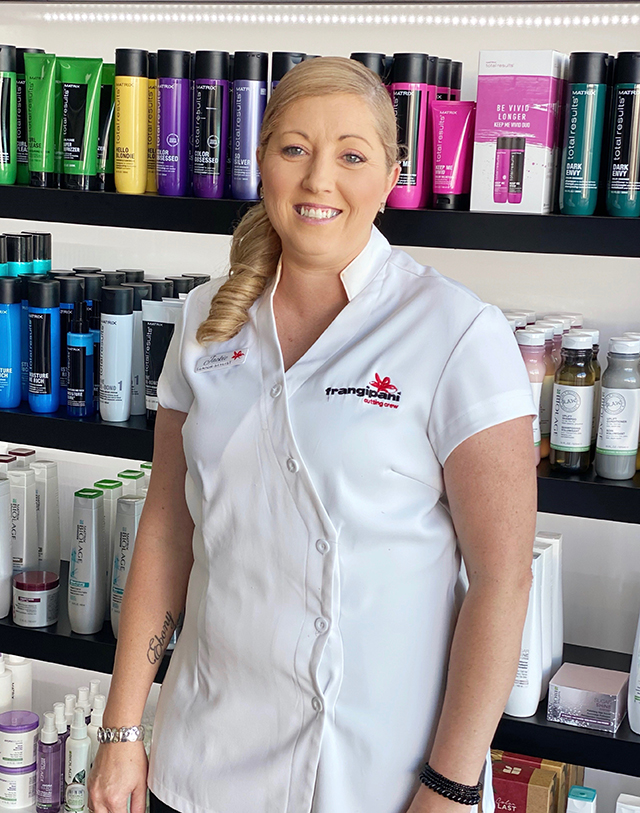 JACKIE
Senior Hair Stylist
Hi I'm Jackie! I love how hairdressing lets me be creative and be me! Creativity is something I love and being able to create such an art is such a special gift. I have been hairdressing for 22 years! I have gratefully been a part of the Frangipani Cutting Crew team for 3 years and loving every moment of it. My days on the floor are Wednesday to Friday. I specialise in foiling, all colouring, precision cutting and bobs. My favourite product is Delorenzo Sandstorm because I love the soft texture it provides and so easy to use! In my spare time I love playing sports and long beach walks, we are so lucky to live where there are such beautiful beaches.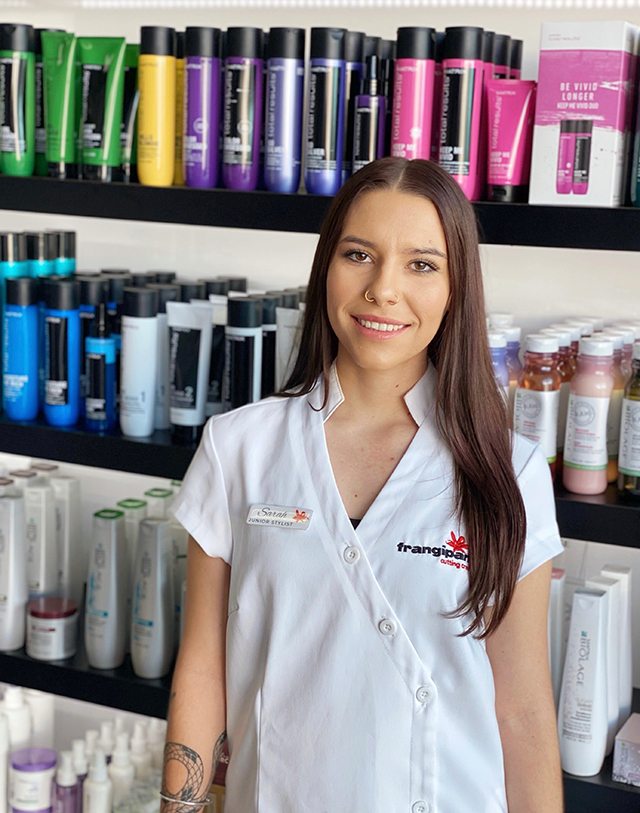 SARAH
Junior Hair Stylist
Hi I'm Sarah! I started my apprenticeship with Frangipani Cutting Crew 4 years ago and will soon be qualified at the end of 2020. I love my job because I love making people feel good about themselves. I love the journey from start to finish and seeing my client's reaction. I love foiling, cutting and beauty work. My days on the floor are Tuesday to Saturday. My favourite product is the BHave Shine Serum because it smells amazing and takes out the frizz, leaving the hair feeling healthy and smooth. In my own time I enjoy motorbike riding, camping and the beach.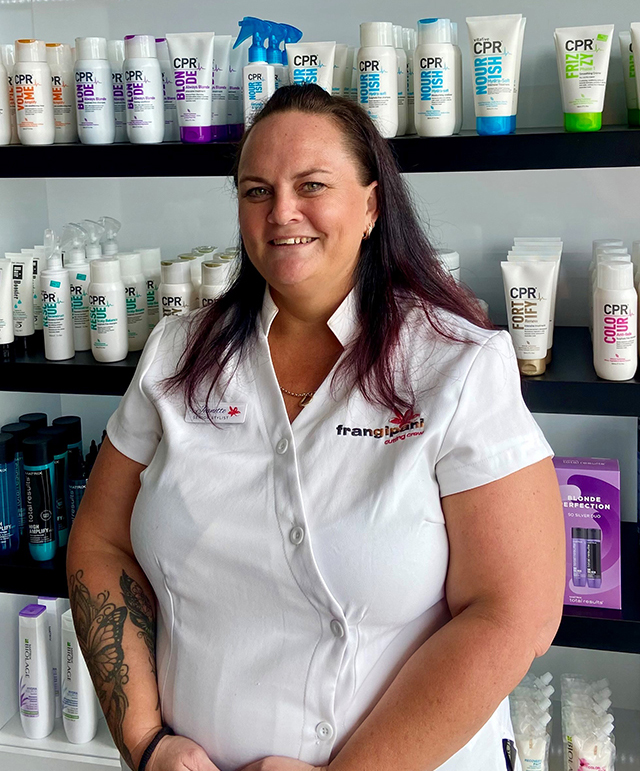 JEANETTE
Senior Hair Stylist
Hi I'm Jeanette! Originally from Sydney I moved to the beautiful Sunshine Cost eight years ago. I have nearly 30 years experience in the industry and I just love being able to help make people feel beautiful when they leave the salon. I specialise in foiling, cutting, razor cuts, and up styles for special occasions. In my spare time I love camping and spending time with my family.